---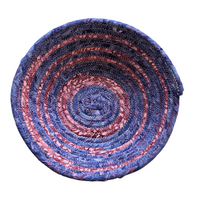 Mixed Batik Bowl measures approx. 6" across by 2" tall.

Each bowl is slightly asymmetrical. These bowls are perfect for holding sewing notions, jewelry, accessories, and other small items.
Three bowls are also perfect for storing loose parts or Montessori toys. 

Made with cotton clothesline and raw edge fabric strips, and sewn with coordinating threads.
If you're interested in making your own fabric bowls, please check out our DIY kits!